Hearing Products
If a hearing aid or device is necessary for your hearing journey, our experts will guide you to the best solution. We offer the latest hearing technology and products that address a wide variety of hearing loss concerns, helping you reconnect to the world around you.
Hearing Technology
Modern Solutions For All Types of Hearing Loss
Thanks to advances in technology, hearing products are designed to be more compatible with our lives than ever before. In addition to hearing aids, there are a number of products that make living and communicating with hearing loss easier to manage, so you never miss a beat.
Hearing aids come in a wide variety of styles and offer a number of features at varying price points. The device you choose ultimately comes down to your hearing loss, lifestyle and budget. Our hearing aid styles guide can help you find the best match for your unique hearing needs.
More on Hearing Aid Styles
Hearing aid technology continues to evolve every year. Today, there are plenty of options on the market; all with different features and benefits at varying price points. After your hearing evaluation, our providers will help match you to the best device for your hearing loss, lifestyle and budget.
More on Hearing Aid Technology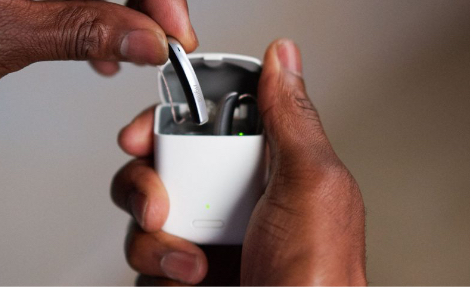 Hearing Aid Manufacturers
Hearing Products Created by the Best in the Industry
When it comes to hearing loss, you need a device you can rely on to perform its best. That's why we carry products from manufacturers with a proven track record of exceptional quality. No matter your budget, lifestyle or type of hearing loss, we have a product to meet your needs.
Hearing Protection
Make Protection a Priority
Protecting your ears from noise damage is essential to healthy hearing. We carry a wide variety of options equipped with the latest features and customizations, so you can find the best fit for your lifestyle.
Noise damage is one of the leading causes of hearing loss, which is why hearing protection is essential for healthy hearing. While over-the-counter earplugs offer some protection, custom earmolds and earplugs are the most effective and comfortable options.
More on Earmolds and Ear Plugs
A successful day hunting requires your ability to hear clearly, but protecting your ears from loud sounds is equally important. Luckily, Electronic Shooters Protection makes hearing protection that keeps your ears safe without compromising your ability to hear your surroundings.
More on Electronic Shooters Protection
Noise damage is one of the main causes of hearing loss, which is why we offer a wide range of hearing protection and accessories to help you protect your hearing. Whether you're a musician, hunter, or are frequently exposed to loud noises - we have an earplug designed for your needs.
More on Hearing Protection